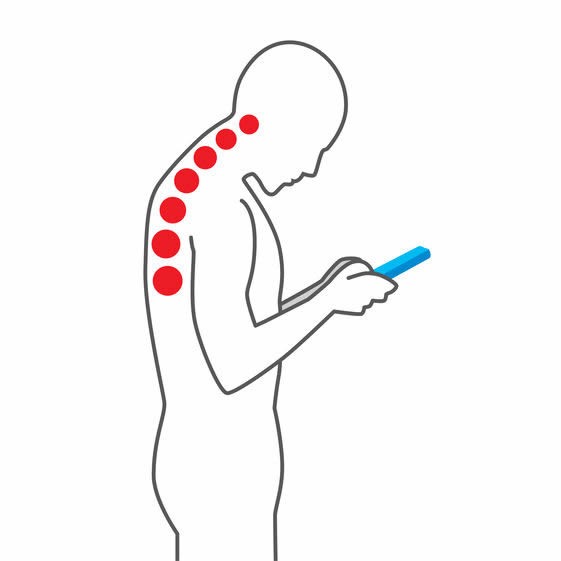 If you're reading this, you probably have a flattened lordotic curve.
Okay, no need to panic—yet. There is a natural curve at the cervical and lumbar regions of the spine that changes depending upon our posture and activities. When an activity is repeated often, however, this curve can become flattened and lead to pain and discomfort in the lower back and neck. What sort of activity? Staring down at cell phones, laptops, and other devices for extended periods of time.  That's right—technology is becoming a real pain in the neck. Tech Neck, as it has been labeled, can even lead to more severe problems, including bulging discs, nerve pain, and degenerative disc disease.
A recent study of musculoskeletal disorder in smartphone users showed that neck disorders were the highest reported (90.00%) followed by shoulder 73.30%, upper back 63.30%, wrist, and hand 36.70% and lower back 30.00%.
How to Avoid Tech Neck
Pay attention to your posture and neck position.
When we look down at our phones or other devices, our necks are usually bent forward. As this tilt increases, so does the weight and strain that's placed on our neck and spine. Consider holding your phone closer to eye-level or raising your monitor to reduce the angle of your neck and maintain good posture.
Use a headrest.
Sitting in a chair with a headrest and maintaining contact with the headrest can help you avoid flexing your neck forward.
Take frequent breaks.
Step away from your computer or put your device down for at least two or three minutes every half hour.
Listen to your body.
If it hurts, stop. Persistent or worsening pain, or pain that moves from the neck into the arms should be "red flag" and may require medical attention.
---
The information provided on this website should not be used to diagnose or treat any medical condition and is not meant to take the place of professional medical advice. If you think you have a medical problem, please seek the advice of a physician. Call 911 for all medical emergencies.