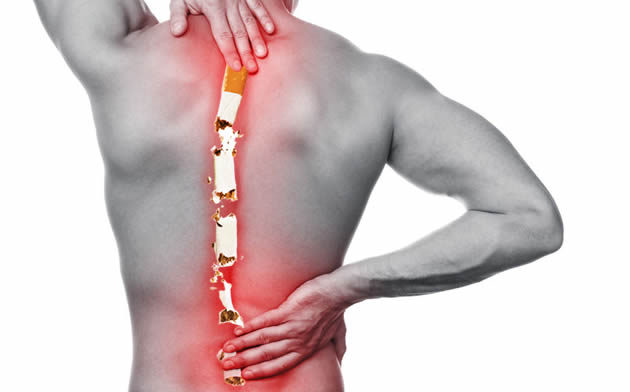 Smoking and back pain are not often thought of as related. Most people are aware of the health risks of smoking. Cigarette smoking damages your lungs, heart, and circulatory system and can lead to cancer, heart attack, stroke, and other diseases. But did you know that smoking can also impact your spine health?
According to a study conducted by researchers in Sweden, nicotine contributes to lumbar spinal stenosis (LSS), which is one of the leading causes of lower back pain. The study collected data from over 300,000 construction workers over three decades and found that nicotine from cigarette smoking constricted blood flow, promoted inflammation, and significantly increased the participant's risk for developing LSS. Compared with non-smokers, heavy smokers were 46% more likely to undergo spinal surgery.
Lead study author Dr. Arkan Sayed-Noor said, "Smoking appears to be a risk factor for developing lower spine space narrowing that can lead to surgical treatment."
Herniated Disc
While discs often degenerate as we age, nicotine can reduce blood flow and further contribute to degenerative disc disease. Smoking can also prevent proper bone healing.
Recovery After Back Surgery
Smoking tobacco products may interfere with recovery after spine surgery. According to a study published in Global Spine Journal, Smokers are significantly more likely to face difficulty in recovery and have more negative long-term outcomes after cervical or lumbar spine surgery than non-smokers.
Do you have a question about smoking and back pain? You may contact us at 310-423-9792 or drop us a note.