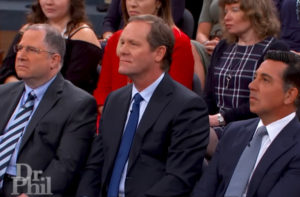 Dr. Phil McGraw, the host of the popular Dr. Phil Show on CBS, launched his new podcast, Phil In the Blanks, in January of this year and our own Dr. J. Patrick Johnson will be featured in an upcoming episode.
The Phil In the Blanks podcast covers a wide range of topics, and recent guests have included former Dallas Cowboys quarterback Tony Roma, actress Kathy Bates, and NBA star Shaquille O'Neal.
Dr. Johnson appeared previously on the Dr. Phil Show, participating in a panel discussion of the growing opiod crisis in America. Dr. Phil's upcoming interview with Dr. Johnson, chief of spinal surgery in the neurosurgery department at Cedars-Sinai hospital and NFL concussion doctor, will focus on the topic of concussions and the growing concerns over head trauma in high school athletics.