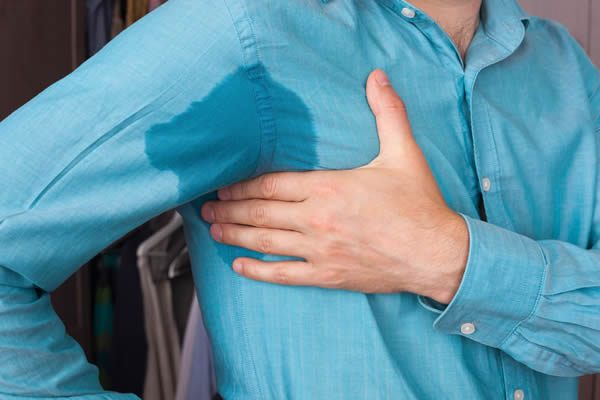 Sweating is normal when you are active, hot, or even anxious. Excessive sweating for no apparent reason, however, is a medical condition referred to as hyperhidrosis. Hyperhidrosis can be embarrassing and even socially debilitating. Excessive sweating can affect specific areas, such as hands, feet, and armpits. This is called focal hyperhidrosis. Excessive sweating that is not the result of another medical condition is called primary hyperhidrosis.
Controlling Hyperhidrosis
Hyperhidrosis can often be treated with strong antiperspirants that contain 10% to 20% aluminum chloride hexahydrate. Medications that reduce sweat gland activity are available, although these can cause side effects. Botulinum toxin, or Botox, is sometimes used to control hyperhidrosis. Botulinum toxin injections temporarily block the nerves that cause sweating.
Surgical Options for Controlling Excessive Sweating
Endoscopic sympathectomy surgery can treat hyperhidrosis as well as some pain disorders. This minimally invasive procedure that turns off the nerve signal that triggers excessive sweating is sometimes recommended when other treatments do not work.
Dr. Johnson is one of the original pioneers of developing endoscopic technology to treat hyperhidrosis and has published widely, taught many of the surgeons doing these procedures today, and lectured worldwide on this topic and procedure.