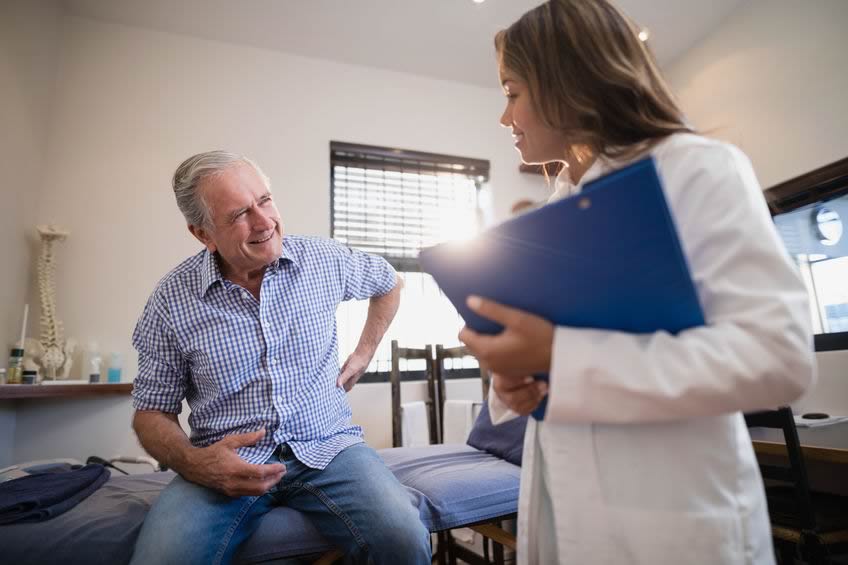 Treatment for low back pain generally depends on whether the pain is acute or chronic. In general, surgery is recommended only if there is evidence of worsening nerve damage and when diagnostic tests indicate structural changes for which corrective surgical procedures have been developed.
Conventionally used treatments and their level of supportive evidence include:
Hot or cold packs have never been proven to quickly resolve low back injury; however, they may help ease pain and reduce inflammation for people with acute, subacute, or chronic pain, allowing for greater mobility among some individuals.
Activity: Bed rest should be limited. Individuals should begin stretching exercises and resume normal daily activities as soon as possible, while avoiding movements that aggravate pain. Strong evidence shows that persons who continue their activities without bed rest following onset of low back pain appeared to have better back flexibility than those who rested in bed for a week. Other studies suggest that bed rest alone may make back pain worse and can lead to secondary complications such as depression, decreased muscle tone, and blood clots in the legs.
Strengthening exercises, beyond general daily activities, are not advised for acute low back pain, but may be an effective way to speed recovery from chronic or subacute low back pain. Maintaining and building muscle strength is particularly important for persons with skeletal irregularities. Health care providers can provide a list of beneficial exercises that will help improve coordination and develop proper posture and muscle balance. Evidence supports short- and long-term benefits of yoga to ease chronic low back pain.
Physical therapy programs to strengthen core muscle groups that support the low back, improve mobility and flexibility, and promote proper positioning and posture are often used in combinations with other interventions.
Medications: A wide range of medications are used to treat acute and chronic low back pain. Some are available over the counter (OTC); others require a physician's prescription. Certain drugs, even those available OTC, may be unsafe during pregnancy, may interact with other medications, cause side effects, or lead to serious adverse effects such as liver damage or gastrointestinal ulcers and bleeding. Consultation with a health care provider is advised before use. The following are the main types of medications used for low back pain:
Analgesic medications are those specifically designed to relieve pain. They include OTC acetaminophen and aspirin, as well as prescription opioids such as codeine, oxycodone, hydrocodone, and morphine. Opioids should be used only for a short period of time and under a physician's supervision. People can develop a tolerance to opioids and require increasingly higher dosages to achieve the same effect. Opioids can also be addictive. Their side effects can include drowsiness, constipation, decreased reaction time, and impaired judgment. Some specialists are concerned that chronic use of opioids is detrimental to people with back pain because they can aggravate depression, leading to a worsening of the pain.
Nonsteroidal anti-inflammatory drugs (NSAIDS) relieve pain and inflammation and include OTC formulations (ibuprofen, ketoprofen, and naproxen sodium). Several others, including a type of NSAID called COX-2 inhibitors, are available only by prescription. Long-term use of NSAIDs has been associated with stomach irritation, ulcers, heartburn, diarrhea, fluid retention, and in rare cases, kidney dysfunction and cardiovascular disease. The longer a person uses NSAIDs the more likely they are to develop side effects. Many other drugs cannot be taken at the same time a person is treated with NSAIDs because they alter the way the body processes or eliminates other medications.
Anticonvulsants—drugs primarily used to treat seizures—may be useful in treating people with radiculopathy and radicular pain.
Antidepressants such as tricyclics and serotonin and norepinephrine reuptake inhibitors have been commonly prescribed for chronic low back pain, but their benefit for nonspecific low back pain is unproven, according to a review of studies assessing their benefit.
Counter-irritants such as creams or sprays applied topically stimulate the nerves in the skin to provide feelings of warmth or cold in order to dull the sensation of pain. Topical analgesics reduce inflammation and stimulate blood flow.
Spinal manipulation and spinal mobilization are approaches in which professionally licensed specialists (doctors of chiropractic care) use their hands to mobilize, adjust, massage, or stimulate the spine and the surrounding tissues. Manipulation involves a rapid movement over which the individual has no control; mobilization involves slower adjustment movements. The techniques have been shown to provide small to moderate short-term benefits in people with chronic low back pain. Evidence supporting their use for acute or subacute low back pain is generally of low quality. Neither technique is appropriate when a person has an underlying medical cause for the back pain such as osteoporosis, spinal cord compression, or arthritis.
Traction involves the use of weights and pulleys to apply constant or intermittent force to gradually "pull" the skeletal structure into better alignment. Some people experience pain relief while in traction, but that relief is usually temporary. Once traction is released the back pain tends to return. There is no evidence that traction provides any longterm benefits for people with low back pain.
Acupuncture is moderately effective for chronic low back pain. It involves the insertion of thin needles into precise points throughout the body. Some practitioners believe this process helps clear away blockages in the body's life force known as Qi (pronounced chee). Others who may not believe in the concept of Qi theorize that when the needles are inserted and then stimulated (by twisting or passing a low-voltage electrical current through them) naturally occurring painkilling chemicals such as endorphins, serotonin, and acetylcholine are released. Evidence of acupuncture's benefit for acute low back pain is conflicting and clinical studies continue to investigate its benefits.
Biofeedback is used to treat many acute pain problems, most notably back pain and headache. The therapy involves the attachment of electrodes to the skin and the use of an electromyography machine that allows people to become aware of and selfregulate their breathing, muscle tension, heart rate, and skin temperature. People regulate their response to pain by using relaxation techniques. Biofeedback is often used in combination with other treatment methods, generally without side effects. Evidence is lacking that biofeedback provides a clear benefit for low back pain.
Nerve block therapies aim to relieve chronic pain by blocking nerve conduction from specific areas of the body. Nerve block approaches range from injections of local anesthetics, botulinum toxin, or steroids into affected soft tissues or joints to more complex nerve root blocks and spinal cord stimulation. When extreme pain is involved, low doses of drugs may be administered by catheter directly into the spinal cord. The success of a nerve block approach depends on the ability of a practitioner to locate and inject precisely the correct nerve. Chronic use of steroid injections may lead to increased functional impairment.
Epidural steroid injections are a commonly used short-term option for treating low back pain and sciatica associated with inflammation. Pain relief associated with the injections, however, tends to be temporary and the injections are not advised for long-term use. An NIH-funded randomized controlled trial assessing the benefit of epidural steroid injections for the treatment of chronic low back pain associated with spinal stenosis showed that long-term outcomes were worse among those people who received the injections compared with those who did not.
Transcutaneous electrical nerve stimulation (TENS) involves wearing a battery-powered device consisting of electrodes placed on the skin over the painful area that generate electrical impulses designed to block incoming pain signals from the peripheral nerves. The theory is that stimulating the nervous system can modify the perception of pain. Early studies of TENS suggested that it elevated levels of endorphins, the body's natural pain-numbing chemicals. More recent studies, however, have produced mixed results on its effectiveness for providing relief from low back pain.
Surgery
When other therapies fail, surgery may be considered an option to relieve pain caused by serious musculoskeletal injuries or nerve compression. It may be months following surgery before the patient is fully healed, and he or she may suffer permanent loss of flexibility.
Surgical procedures are not always successful, and there is little evidence to show which procedures work best for their particular indications. Patients considering surgical approaches should be fully informed of all related risks. Surgical options include:
Vertebroplasty and kyphoplasty are minimally invasive treatments to repair compression fractures of the vertebrae caused by osteoporosis. Vertebroplasty uses three-dimensional imaging to assist in guiding a fine needle through the skin into the vertebral body, the largest part of the vertebrae. A glue-like bone cement is then injected into the vertebral body space, which quickly hardens to stabilize and strengthen the bone and provide pain relief. In kyphoplasty, prior to injecting the bone cement, a special balloon is inserted and gently inflated to restore height to the vertebral structure and reduce spinal deformity.
Spinal laminectomy (also known as spinal decompression) is performed when spinal stenosis causes a narrowing of the spinal canal that causes pain, numbness, or weakness. During the procedure, the lamina or bony walls of the vertebrae, along with any bone spurs, are removed. The aim of the procedure is to open up the spinal column to remove pressure on the nerves.
Discectomy or microdiscectomy may be recommended to remove a disc, in cases where it has herniated and presses on a nerve root or the spinal cord, which may cause intense and enduring pain. Microdiscectomy is similar to a conventional discectomy; however, this procedure involves removing the herniated disc through a much smaller incision in the back and a more rapid recovery. Laminectomy and discectomy are frequently performed together and the combination is one of the more common ways to remove pressure on a nerve root from a herniated disc or bone spur.
Foraminotomy is an operation that "cleans out" or enlarges the bony hole (foramen) where a nerve root exits the spinal canal. Bulging discs or joints thickened with age can cause narrowing of the space through which the spinal nerve exits and can press on the nerve, resulting in pain, numbness, and weakness in an arm or leg. Small pieces of bone over the nerve are removed through a small slit, allowing the surgeon to cut away the blockage and relieve pressure on the nerve.
Intradiscal electrothermal therapy (IDET) is a treatment for discs that are cracked or bulging as a result of degenerative disc disease. The procedure involves inserting a catheter through a small incision at the site of the disc in the back. A special wire is passed through the catheter and an electrical current is applied to heat the disc, which helps strengthen the collagen fibers of the disc wall, reducing the bulging and the related irritation of the spinal nerve. IDET is of questionable benefit.
Nucleoplasty, also called plasma disc decompression (PDD), is a type of laser surgery that uses radiofrequency energy to treat people with low back pain associated with mildly herniated discs. Under x-ray guidance, a needle is inserted into the disc. A plasma laser device is then inserted into the needle and the tip is heated to 40-70 degrees Celsius, creating a field that vaporizes the tissue in the disc, reducing its size and relieving pressure on the nerves. Several channels may be made depending on how tissue needs to be removed to decompress the disc and nerve root.
Radiofrequency denervation is a procedure using electrical impulses to interrupt nerve conduction (including the conduction of pain signals). Using x-ray guidance, a needle is inserted into a target area of nerves and a local anesthetic is introduced as a way of confirming the involvement of the nerves in the person's back pain. Next, the region is heated, resulting in localized destruction of the target nerves. Pain relief associated with the technique is temporary and the evidence supporting this technique is limited.
Spinal fusion is used to strengthen the spine and prevent painful movements in people with degenerative disc disease or spondylolisthesis (following laminectomy). The spinal disc between two or more vertebrae is removed and the adjacent vertebrae are "fused" by bone grafts and/or metal devices secured by screws. The fusion can be performed through the abdomen, a procedure known as an anterior lumbar interbody fusion, or through the back, called posterior fusion. Spinal fusion may result in some loss of flexibility in the spine and requires a long recovery period to allow the bone grafts to grow and fuse the vertebrae together. Spinal fusion has been associated with an acceleration of disc degeneration at adjacent levels of the spine.
Artificial disc replacement is considered an alternative to spinal fusion for the treatment of people with severely damaged discs. The procedure involves removal of the disc and its replacement by a synthetic disc that helps restore height and movement between the vertebrae.
From: NINDS Low Back Pain Fact Sheet
Prepared by:
Office of Communications and Public Liaison
National Institute of Neurological Disorders and Stroke
National Institutes of Health
Bethesda, MD 20892