Protecting the Health and Well-being of the Backbone of the Medical World
The medical world relies heavily on its surgeons – individuals frequently subjected to ergonomic challenges. A staggering 86% of surgeons encounter work-related injuries or illnesses during their careers, often due to uncomfortable or stationary postures maintained for extended periods during operations [1].
The Significance of Correct Posture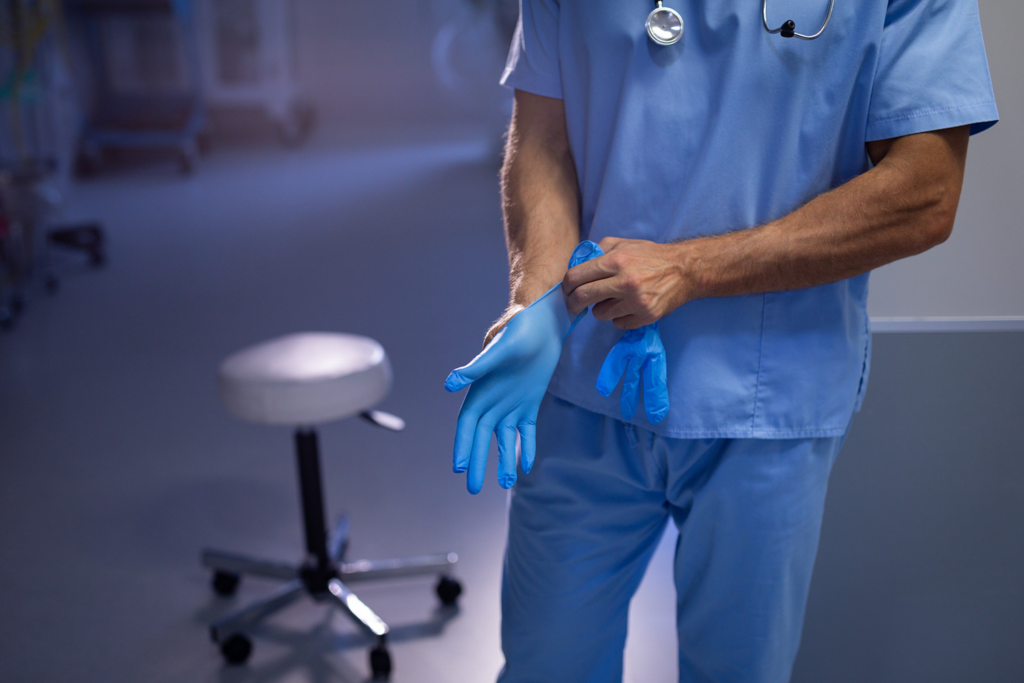 Maintaining a neutral spine posture is essential to mitigate the risks of spinal strain and injury among surgeons. With a neutrally positioned spine, the cervical, thoracic, and lumbar curves align properly, alleviating pressure on the intervertebral discs and muscles. For effective posture maintenance:
Position the operating table and chair to facilitate a comfortable and neutral spinal alignment.
Prevent bending or twisting of the neck and back during surgical procedures.
Take frequent micro-breaks during prolonged surgeries to counteract muscle fatigue and rectify posture.
Optimizing the Use of Loupes
Surgeons employ loupes, magnification tools, to enhance visual precision during surgeries. However, incorrect usage can lead to neck strain and discomfort. To optimize the use of loupes:
Opt for loupes providing a sufficient depth of field to prevent continuous neck flexion.
Modify the declination angle to limit neck bending.
Consider custom-fitted loupes that adapt to individual facial features and ergonomic needs.
Clean and maintain loupes regularly to ensure superior visual clarity.
Promoting Exercise and Stretching
Regular exercise and stretching routines are crucial for preserving spinal health and preventing injuries. Surgeons should:
Pursue a consistent exercise routine, focusing on core strength and flexibility to support spinal alignment and muscular endurance
Incorporate stretching exercises targeting the neck, shoulders, and lower back to relieve muscle tension and maintain flexibility.
Explore yoga or Pilates to enhance posture, augment body awareness, and reduce stress.
Consult a physical therapist or fitness professional to devise an exercise program tailored to individual needs and objectives.
Surgeons can significantly lower the risk of work-related injuries and preserve their spinal health by emphasizing ergonomics. Adopting proper posture, optimizing the use of loupes, and incorporating a regular exercise routine will not only bolster the well-being of surgeons but also improve their work efficiency and overall patient outcomes.
Park, A., Lee, G., Seagull, F. J., Meenaghan, N., & Dexter, D. (2010). Patients benefit while surgeons suffer: an impending epidemic. Journal of the American College of Surgeons, 210(3), 306-313.
---
J. Patrick Johnson, MD is a renowned neurosurgeon specializing in spinal disorders and has served as the Director of the Institute for Spinal Disorders at Cedars Sinai Medical Center since 2001 and previously as the Director of the UCLA Comprehensive Spine Center from 1993-2001.
Dr. Johnson's contributions to the field of neurosurgery and spine surgery are highly regarded and minimally invasive spinal surgery is a focus of Dr Johnson's practice.
This article is offered as informational only and not to be used as a substitute for professional medical advice.