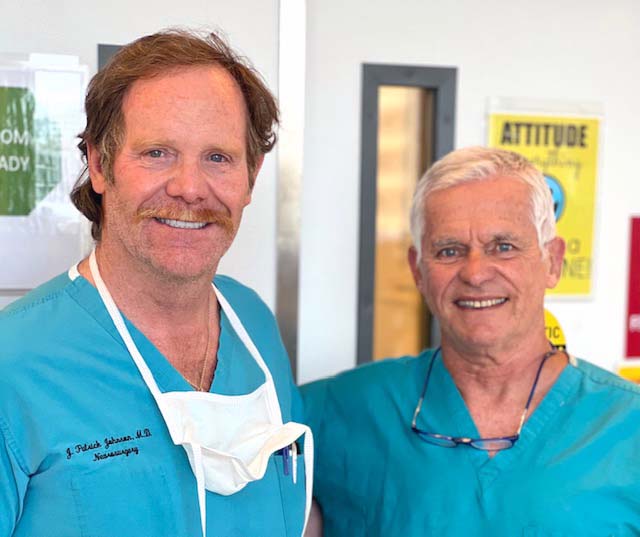 J. Patrick Johnson, MD, hosted Dr. Luiz Pimenta, a longtime friend and colleague, during his recent visit to Los Angeles. Dr. Pimenta is an innovator in developing lateral access spine surgery called XLIF (Nuvasive INC) and DLIF (Medtronic Inc) procedures, among others.
Dr. Pimenta's visit focused on a relatively new concept of single position (simultaneous 2-stage procedure) with a lateral spinal fusion surgery done in a prone (face down) position through a small incision and the posterior instrumentation procedure with screws placed and +/- decompression. In the past, spinal fusions were done primarily through open surgical methods via anterior or posterior approaches. More recently methods have been developed that approach the lumbar spine laterally. (See: Simultaneous Lateral Interbody Fusion and Posterior Percutaneous Instrumentation: Early Experience and Technical Considerations, a clinical study authored by Dr. Johnson, along with Doniel Drazin, MD, and Terrence T. Kim, MD.)
—————–
J. Patrick Johnson, MD is a renowned neurosurgeon specializing in spinal disorders and has served as the Director of the Institute for Spinal Disorders at Cedars Sinai Medical Center since 2001 and previously as the Director of the UCLA Comprehensive Spine Center from 1993-2001. He now serves as the Director of Education and Co-Director of the Spine Stem Cell Research Program at Cedars Sinai. He also serves as a Director for the California Association of Neurological Surgeons.
Luiz Pimenta, MD, is an associate professor at the University of California, San Diego, former president of the World Spinal Column Society (WScS), and member of the board of directors of The International Society for the Advancement of Spine Surgery (ISSAS). He is also a member of Scoliosis Research Society (SRS), North American Spine Society (NASS), American Association of Neurosurgeons (AANS), Society of Lateral Access Surgery (SOLAS), Brazilian Spine Society (SBC) and Brazilian Society of Neurosurgery (SBN).