Dr. Terrence Kim, Cedars-Sinai see robotic spine surgery as the way of the future (From Becker's Hospital Review)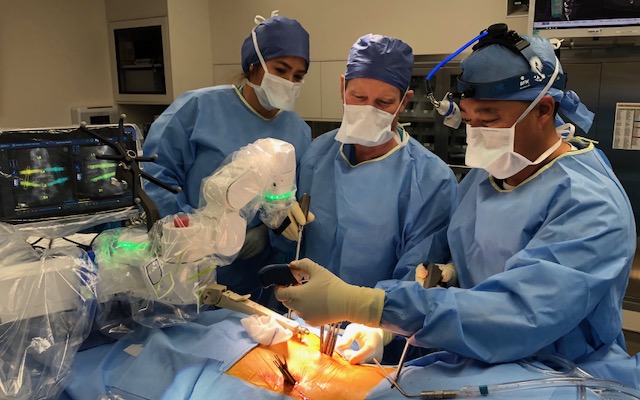 The Cedars-Sinai Spine Center in Los Angeles recently purchased a Mazor X Stealth Edition and completed its first spine procedure with the device Dec. 16. Three spine surgeons — Terrence Kim, MD, J. Patrick Johnson, MD, and Robert Pashman, MD — performed the debut surgery with another three surgeons training in the robotic guidance system. Read the complete article here.
The new spinal robotic system being used at Cedars Sinai this week by Drs Johnson and Kim is gaining momentum with each procedure since beginning last month. This previously complicated procedure to repair a spondylolisthesis (ie most commonly slippage of the L45 vertebrae)  utilizes superlative accuracy and the least invasive procedures with several small incisions (<1 inch) and essentially no blood loss.
Dr. Johnson said, "these are true advances in the treatment of complex spinal problems that required large procedures in the past."
Mazor Video Demonstration