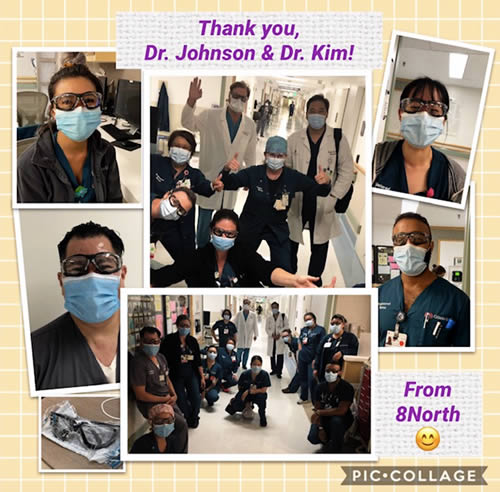 Under the direction of Dr. J. Patrick Johnson and Dr. Terrence Kim, the Spine Institute Foundation is a leading edge program that brings together university faculty, scientists and engineers who are committed to advancing the scope of knowledge and expertise in the treatment of neurological, musculoskeletal, and spinal disease.
An important part of the organization's mission is not only the development and sharing of life-changing techniques and technologies but also supporting our fellow healthcare workers. Particularly during challenges presented by COVID-19.
Most people understand the importance of wearing face masks, but eye protection is also a necessary part of personal protective equipment. That's why Dr. Kim and Dr. Johnson began an initiative at Cedars Sinai that enables physicians to help by providing approved protective glasses to health care workers, including nursing and medical staff. The glasses offer additional protection and are easier to use continuously than large face shields that have typically been worn.
Our Community Outreach Program is made possible by people, like you, who have helped support the Spine Institute Foundation and its mission for over a decade. You can make a difference. Get involved →